Rumbling vibrato in my throat is my beat in the morning cloud of traffic, audible only to me.  I'm having a grand ol' time, heels clicking in time with my funky vocal stylings.  I'm killing it.
"Left a good job in the city…Working for the man every night and day…"
I'm groovin' now, get a little shoulder action in there.
"Big wheels keep on turning–"
Screeching wheels, screaming horn, urgent dinging explode behind me.  A tram is gliding on a collision course with a pedestrian.
The man is a zombie with earphones, gliding coolly in the spotlight of the tram's headlights.  The tram is still moving, and he isn't reacting.
I shriek an expletive over my shoulder and recoil, convinced this is the Nightmare Moment.  Morbid curiosity holds my gaze to the scene.
The tram's nose has halted, narrowly missing the zombie's legs.  No reaction whatever; he has no idea that he almost met his maker.
Passersby look askance at me for standing in the sidewalk, taking up space.  I'm part of the morning pedestrian traffic flow, how dare I deviate?
My boots click more irregularly now, and my voice is caught in the hollow of my throat.    False notes squeak out:  "Proud Mary keep on burnin'…"
And then there is no more music.  I've been smacked back into reality.  My eyes start burning, and I am silent the rest of the way to work.
What the hell is wrong with us?
I step into a baby clothing store on a whim, looking for a gift for a friend who's just given birth. The shop is cheerful and whimsical, with a fluffy pastel cotton-candy interior. I'm a bit disoriented in this foreign world of cutesy teeny-tiny fashion.
Smelling fresh carrion, two black-clad saleswomen croak "Hello" and descend upon me. They bare their teeth into something resembling a smile.
One of them, an older woman with deep-set eyes, indicates the rack for newborns. I peruse the adorable clothing, realizing a simple onesie costs 55 euros…
I have no time to fake a polite exit before the dark-eyed woman re-materializes in a cloud of heavy perfume and the oppressive stink of 30 years' worth of cigarettes and red wine. There's something sinister about this husky-voiced woman with stingy hair and George Washington's wooden teeth, cooing at me with a saccharine voice.
"How old did you say the baby was?"
"Uhm, about 2 months."
"So it's NOT a new baby then!"
"I guess not…"
"Et, c'est dans quel pays?"
My eyes narrow in confusion, and my mouth is parted–I'm breathing discreetly through my mouth.
Quel pays? What country? What kind of trick question is this?
"Pardon?"
She repeats herself, cartoonishly enunciating "Quel PAYS?" Her gray teeth stand out against the spackle caked on her face; she looks like a 20's vaudeville clown.
"France."
"No, no, no…" Her colleague joins in behind, and they are now both braying at me, in tandem: "Pays, pays, pays…"  All that's missing here is an undead barbershop quartet to complete this ghastly spectacle.
What did I do to gain entry to this hellish dog and pony show?
"WHERE?"
"The south of France…?"
"Oh, voilà! You know, we only ask because every region's weather is different, every season is different, which you must keep in mind when shopping…" Her smarmy response disgusts me, and their logic has me stumped.  I don't belong here in this farce. I respond with logic that might speak to them:
"Well, this is a travelling baby. You know, the kind of baby that travels all over France with her parents, so any kind of clothing would be fine… At any rate, thanks very much for your help, have a great day!" I chirp and fly out of the store.
The air outside is heavy and oppressive, offering no relief from the burning that stings the back of my throat.  I feel foolish, destabilized, unsettled.  Despite their bizarrely condescending behavior, I still suspect the fault lies with me and my insufficient French.
It's time to retreat home.  I'll buy the gift another day.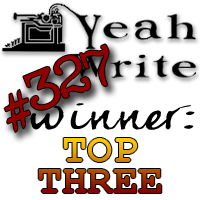 8am train.
My own little slice of hell.
It's the morning business rush; the 9am-ers position themselves along the platform, discreetly eyeing the competition.
The train wheezes into the station, and all order is lost. Herding themselves in front of the door, they commit the cardinal sin of train travel: Never impede passengers trying to exit. Those poor saps barely escape before the herd lumbers on, in search of fulfilling their primal need to sit down. The tense scuffling of feet, exasperated sighs, desperately roving eyes and sudden acrobatic manoeuvres at the sight of an empty seat… I have to admire the organized chaos.
In summertime, add in oafish commoners with ill-fitting cheap sunglasses who lug too much baggage onboard, along with their cross-eyed hyperactive children. Solo travellers scurry on to find an empty pair of seats, plop down, then protectively seat their hardside luggage next to them. I walk by, and they avoid eye contact.
It's a 15-minute ride. I think I'll survive if I stand.
I try to read, but I'm distracted by the flutter of conversation around me. Banal conversation, rehashed. Kids, weather, job. I burrow deeper into my book.
Suddenly I catch a whiff that offends my senses, emanating from the miserable latrine. My nostrils are burning. Good God, have these people no shame? Passive-aggressive territoriality at its lowest. How dare they subject the rest of us to the injustice of smelling their beastly morning constitution? Is this what freedom looks like? Forcing others to suffer the indignity of inhaling their ungodly coffee-fueled evacuation…
We approach our destination, and these bovines elbow discreetly toward the door. Self-important squares need to be the first off the train. Underlying message: "I'm more important than everyone else here."
Indeed, we are at the center of our respective universes. Every morning at 8:24am, there are a hundred supremely-important universes fighting an imaginary battle for a prime position on the livestock transport line.
The herd shuffles forward, hooves clacking in the urgent rush. A self-herding mass, headed straight for the abattoir.
My heart bays: I don't belong here.