Just me and F, cruising down the highway. Car full of music, snacks, and overnight bags; my socked feet rest on the dashboard.
I'm spying on the families in neighboring cars, making fun of them all.
Identical families in identical vehicles running off to identical rental properties to have identical vacations. Dads with polo shirts and reflective sunglasses driving the family vehicle, while Mom rides shotgun, staring hypnotically ahead at the infinite road stripes. Uninterested kids melting from boredom in the backseat. An occasional disgruntled mother-in-law is sandwiched between her mouthbreathing grandkids in the backseat, boring a hole into the back of her disappointment of a son-in-law's skull with her iron gaze. A family's worth of bicycles jimmy-rigged to the back of the vehicle, impeding their rear view.
Cutting off drivers on the highway to hurry to some banal destination, just to eat overpriced rubbery seafood and subpar waffles, and sit on a lackluster beach while your kids lament about missing their carbon-copy friends. Take a few washed-out, blurry photos that end up sitting in a shoebox to collect dust until after the funeral.
In other words, livin' the middle class dream.
I wonder.
"Are we gonna be like that someday?"
His right hand moves from the wheel to my knee and tenderly squeezes, eyes straight ahead. "Maybe." Suddenly, a clueless errant driver weaves into our lane. F's face hardens as he grips the wheel and hits the brakes to avoid them, all while muttering uncouth things in French. (Roughly translated, it'd be something like: "These unfortunate gentlemen are ill-informed about the art of driving; 'tis an act better left to those more capable of doing it.")
I make a silly face at the driver as we pass them by, and I burst into laughter at their confused expression.
No, we'll never be like them…
+
We arrive at Scampi, our friends' home near the beach. When we pull up to the house, we're greeted by Mama and Papa, holding bright-eyed Baby 3. Babies 1 and 2 run outside to greet us, in a dust storm of blonde hair, blue eyes, joyous shrieks, and general excitement at receiving visitors. Papa is happy to see F, to increase the testosterone-to-estrogen ratio in the house, and Mama is happy to chitchat with me in English. Fresh beverages fizz and glasses clink to herald our arrival. We catch up with our friends while Baby 3 coos and giggles, and Babies 1 and 2 twitter about in a show-and-tell flurry of sparkly princess stickers and bold finger paintings.
Dinnertime approaches, and our tummies growl. The men stride into the backyard to start the fire for our barbecue.
I hold a hand to my empty stomach and look out at F.
Someday, we know there'll be something more in here.
I step into a baby clothing store on a whim, looking for a gift for a friend who's just given birth. The shop is cheerful and whimsical, with a fluffy pastel cotton-candy interior. I'm a bit disoriented in this foreign world of cutesy teeny-tiny fashion.
Smelling fresh carrion, two black-clad saleswomen croak "Hello" and descend upon me. They bare their teeth into something resembling a smile.
One of them, an older woman with deep-set eyes, indicates the rack for newborns. I peruse the adorable clothing, realizing a simple onesie costs 55 euros…
I have no time to fake a polite exit before the dark-eyed woman re-materializes in a cloud of heavy perfume and the oppressive stink of 30 years' worth of cigarettes and red wine. There's something sinister about this husky-voiced woman with stingy hair and George Washington's wooden teeth, cooing at me with a saccharine voice.
"How old did you say the baby was?"
"Uhm, about 2 months."
"So it's NOT a new baby then!"
"I guess not…"
"Et, c'est dans quel pays?"
My eyes narrow in confusion, and my mouth is parted–I'm breathing discreetly through my mouth.
Quel pays? What country? What kind of trick question is this?
"Pardon?"
She repeats herself, cartoonishly enunciating "Quel PAYS?" Her gray teeth stand out against the spackle caked on her face; she looks like a 20's vaudeville clown.
"France."
"No, no, no…" Her colleague joins in behind, and they are now both braying at me, in tandem: "Pays, pays, pays…"  All that's missing here is an undead barbershop quartet to complete this ghastly spectacle.
What did I do to gain entry to this hellish dog and pony show?
"WHERE?"
"The south of France…?"
"Oh, voilà! You know, we only ask because every region's weather is different, every season is different, which you must keep in mind when shopping…" Her smarmy response disgusts me, and their logic has me stumped.  I don't belong here in this farce. I respond with logic that might speak to them:
"Well, this is a travelling baby. You know, the kind of baby that travels all over France with her parents, so any kind of clothing would be fine… At any rate, thanks very much for your help, have a great day!" I chirp and fly out of the store.
The air outside is heavy and oppressive, offering no relief from the burning that stings the back of my throat.  I feel foolish, destabilized, unsettled.  Despite their bizarrely condescending behavior, I still suspect the fault lies with me and my insufficient French.
It's time to retreat home.  I'll buy the gift another day.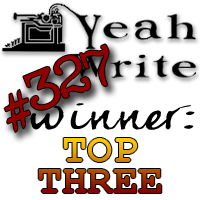 In class, one-to-one with a young woman. Her limp ponytail drags between her slumped shoulders. I'm patiently listening to her gulpy, whispered half-responses. Gently, I ask for a full sentence, and she's staring down at the table, cold. Out of my peripheral vision, the television in the next room plays a special report: death rituals in some faraway country. The desiccated, hollow, toothy face of a man's dead father comes up onscreen. My eyebrows twist in morbid fascination as he explains the bathing and offering of food and cigarettes to the mummified body of his father.
My attention whips back to my student, and I tune back in. It's been almost a full minute of silence. I rephrase in favor of a black-or-white question. She continues staring down, frozen in time.
The full-length window facing the sidewalk buzzes with passersby. One figure looks in, then turns and stops. Staring at me through the window, vulgar, slack-jawed, grimy canvas vest, clutching a tattered shopping bag. I flush when my eyes meet his, and hurriedly tune back in to my student, who is just finishing her carefully composed response.
My eyes crinkle with a plaster-toothed, dry smile. "Great," my voice creaks.